Learn to be a motorman and conductor on the Willamette Shore Trolley
Do you like meeting and talking to people? Have you ever dreamed of operating a train and/or trolley? How about the maintenance of trains or railroad tracks? Well, we are looking for people just like you, no experience is necessary, just the willingness to learn!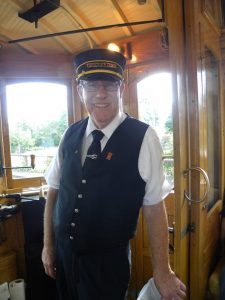 The Willamette Shore Trolley is run by all volunteers of the Oregon Electric Railway Historical Society. You must become a member of the society, Click here to join.
Once a member you can volunteer for all sorts of job descriptions at the Willamette Shore Trolley, or at our museum in Brooks.
To learn more, please email us at mark@oerhs.org
We look forward to welcoming you aboard!!