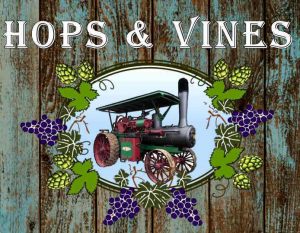 Date: Sat. Sept. 21st
Time: 11 am to 5 pm
Cost: $22 per person
Event is for Adults 21 and over only.
For $2 off/ticket use discount code: hvtrolley
Event location:
Powerland Heritage Park
3995 Booklake Road
Brooks, OR 97303
I-5: Exit 263
Hops and Vines Tasting Event 2019
Come enjoy fall wine, beer and spirit tastings at Powerland Heritage Park's newest event: Hops and Vines.
The date is Saturday, September 21, 2019, from 11 am to 5 pm. Our museum, along with other Powerland museums, will be hosting some of the finest wineries, breweries, and distilleries of the Willamette Valley!
Tickets are $22 per person. You'll enjoy unlimited tastes compliments of these Oregon wineries, breweries, and distilleries and have the opportunity to purchase spirits, fine wines, and craft beers. You'll experience the history, the early technology, and the amazing people who powered Oregon's economy from the late 1800s through the mid-20th century. Plus Trolley Rides will be available for $5/person.
Note, this event is restricted to adults 21 and over only, please.
Help our Museum get credit for ticket sales, and you save $2/ticket. During check-out, use the discount code: hvtrolley
Tickets will also be available on the day of the event. Hope to see you there!
There will be designated Driver Tickets at the Gate for $6/person
Participating Wine, Beer and Spirit Vendors
Wineries
Brooks Winery
Cat Man Cellars
Mystic Wines
Scarlett Oak Barrels
Wandering Duck Artisan Wine
Breweries
Gilgamesh Brewing
Ratchet Brewing
Cideries
Bauman's Cider Company
Distilleries
Abiqua Spirit Distillery
Vivacity Spirits
Food Vendors
Brigantine Monk Chocolate
Country Store
Hooked on Food
Leah's Baked Goods
Willamette Valley Cheese